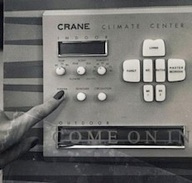 15th Jan 2014: After a hectic first week in the studio hanging, drilling, fixing and painting, then rehanging, re-drilling, re-fixing and re-painting, The Psychotropic House finally opened its doors with a flourish on the evening of Thursday 9th January.  It was great to see so many of our supporters and well-wishers together with our host Yinka Shonibare, enjoying the work and the buzz.
We received many lovely compliments, and as we sipped our well-deserved drinks that evening, combatting the waves of exhaustion, we felt exhilarated that we had achieved our first goal…successful installation and curation!
Stepping back from our individual work, and surveying the 10m x 12m studio space, we are struck by how our very different interpretations of the J G Ballard story manage to convey a sense of cohesion and communicate with each other across the large space.  Recurring motifs are present: stairs, eyes, birds…Large installations (the Psychotropic Lounge, the Stairwell, the Screaming Attic) successfully co-exist with the wall-mounted work (The Whispering Gallery, Dream Fragments within the Walls, Ocean View). The sofa fabric in the interactive Lounge resembles that of the Living Paintings; the electric cabling reaches out from the wall and grows into the Study; the diverse sounds and smells enhance the experience…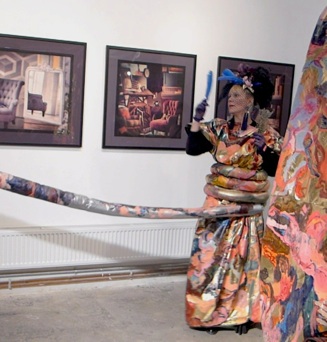 During the evening, Anya's Living Painting performances (three in all) brought to life her suspended paintings on fabric, as she and two other artists (Ana and Liz) 'embodied' the characters of the Milliner, the Dressmaker and the Printer-Compositor – all residents of the house in 1881. Anya's 'promenade' through the space, interacting both with the exhibited work and the visitors, created an engaging spectacle as her mischievous and inquisitive character rifled through drawers, rolled on the sofa, and generally tested the boundaries of the space, whilst being anchored and often restrained by her watchful companions.
This first weekend has been wonderfully busy with approx. 200 visitors over the three days! Saturday also saw the launch of ''Meet the House – Family Drawing Workshop" from 11- 1pm run by Ute Kirkwood and her team. Three drawing stations offered little fingers (and not so little fingers!) the chance to draw objects from the Study; paint or create the sounds and emotions of the House using a variety of colourful craft items; and design a personal version of a Psychotropic House on large roll of paper on the floor. Approximately 30 people came out to play; kids and adults all had a great time.
This coming week sees our first training session with VocalEyes, the evening Symposium on Thursday (now fully booked) and a visit from A'level students from Mulberry Girls School…