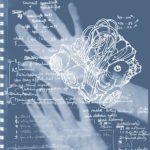 XAP's Laura Dekker will be showing her miniature electro-luminescent process drawings at the up-coming "too much as not enough" at Shtager Gallery in Elephant-and-Castle, London.  The exhibition is inspired by Duchamp's "Boîte-en-Valise", or box in a suitcase, a portable miniature monograph including sixty-nine reproductions of the artist's own work.
This inaugural exhibition at Shtager Gallery "unites under the same roof in a compact space not only one, but multiple group and solo 'exhibitions'. The conceptual gesture of Duchamp is peculiar in the contemporary context of commercialisation, gentrification and scarcity. How many narratives and stories can strategically fit in a small experimental space?".
The exhibition is preceded on 18th May with a lecture by associate curator Denis Maksimov on Duchamp, acceleration, radical forms of presentation, experimentation & 'too much as not enough' series.
19th-30th May, Shtager Gallery, 87 Crampton Street, London, SE17 3AZ.  Open only by appointment.