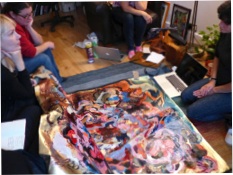 5th Nov 2013: Energising meeting today for the Psychotropic House! Our individual work is progressing and it's great to see how our collaborations are taking shape.
Laura previewed her live layered video for the interactive lounge; Anya rolled out her sumptuous painted fabric which will cover Laura's sofa.
Ideas for the live painting performances began to crystallise, and we talked about the idea of 'inhabiting' and 'animating' Anya's costumes.
Jody captivated us with her sound installation – an absorbing and uncanny soundtrack for the Psychotropic House, with Sue's screaming swifts. Ana made us dream of the ocean…
There were objects too: Teague's wires acting like hands, which will burst from the walls; the spidery markings on the charts from Liz's hygro-graphs, which may continue recording the House's 'heartbeat' after hours…
And smells…  John's advice to us on how these elements may be appreciated by our visually impaired visitors  challenged us to think in new directions…